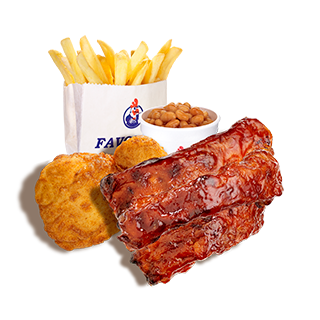 BBQ Rib Combo Meal
Favorite Ribs Coated & Cooked in Our Sticky Sweet Smoky BBQ Sauce plus 1 piece of Favorite Chicken.

Meal Includes regular Favorite McCain SureCrisp Fries & a Choice of Can Drink or regular Tub Side Dish.
2 ribs = 886 kcal - serves 1. 3 ribs = 1024 kcal - serves 1.
Basket
We're very sorry, but Online Ordering is currently unavailable.